Features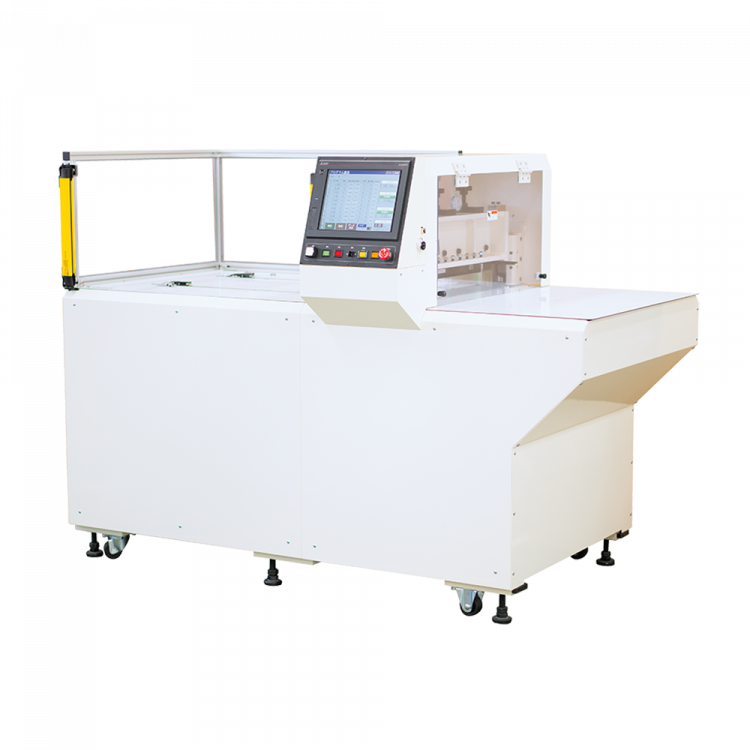 ■Type
Press cutters with table feeding mechanism
■High speed and high precision cutting
A quiet linear motor is mounted so customers can set the cutting length with a unit precision level of 0.001mm.
■Large color touchscreen display
Good visibility and operability
■Ultra-low speed cutting system
Slow cutting with a thin blade minimizes impact and makes cracks less likely to happen.
■Blade height adjustment mechanism
The blade height can be adjusted by 0.001mm.
■Lower dead point multi-step function
As an option, multiple bottom dead center points can be set in the same program.
Applicable materials
Eraser
Rockwool
Adhesive
Aramid fiber
Electromagnetic steel sheet
Hot melt
Ground product
Carbon fibre
Specifications
Model
NZ1-0606
NZ1-0612
NZ1-1212
Cutting dimensions
Maximum cut width
560mm
560mm
1140mm
Maximum cut length
520mm
1100mm
1100mm
Dimension setting unit
0.001mm
Cutting speed
Maximum cutting speed
280spm
280spm
210spm
Automatic cutting speed switching function
Presence (10-speed)
Superlow speed cutting function
Presence (3-speed)
Feeding
Feed drive
Linear motor
Maximum table feeding speed (m/min)
30m/min
Cutting stroke
540mm
1140mm
1140mm
Electrical controls
Control panel
Touch screen (12.1 inch size)
Cutter motor capacity
2.9kW
2.9kW
5.5kW
Cutter motor types
AC servo motor※1
Number of channels for program registration
500CH
Cut depth adjustment
Cut depth adjustment method
Touch screen input
Cut depth adjustment unit
0.001mm
Fine adjustment of cut depth left and right balance
Touch screen input
Automatic switching between full/half cutting
Presence
Fixing material
Pneumatic clamp (push button control)
Presence
Electrical power supply specification
Main circuit breaker capacity
50A 3P AC200V 50/60
50A 3P AC200V 50/60
60A 3P AC200V 50/60
Miscellaneous
Usable blades
Razor blades
OP (thin blades)
Installable Thomson die size
OP(400W×110L)
OP(400W×110L)
Not installable
Mechanical dimensions
2050L×1100W×
1400H
2900L×1100W×
1400H
2900L×1720W×
1525H
Total weight
1000kg
1100kg
1650kg
Features
Mechanical performance
★★★★★
Function extensibility
★★★★★
By using AC servos, the rotation speed accuracy, bottom dead center accuracy and operation response (shortened tact time) can be improved over induction